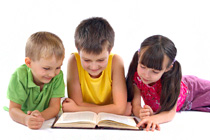 Established in 2008 by an independent Occupational therapist, Paramasivan, the Centre has grown in recent years and now covers adult and paediatric client groups across Tuticorin district. The Child Development Centre is a dynamic organization committed to helping all children reach their full potential and thrive. Knowing that the best way to help a child succeed is to also support the child's family and community, we offer programs and services for children and those closest to them. We are working in the field of education and overall development of the destitute children by providing them with an opportunity to realize their full potentials and lead a dignified and respectable life.
Vision
To promote and improve children's all abilities to develop their highest Potential through child focused and family-Centered rehabilitation.
Mission
To provide a holistic program where a team of experts with diverse backgrounds and specialties, come together to provide your child a multi-dimensional program, that caters to help over all development of your child.
Our team of healthcare professionals works together to identify a child's unique needs and impairments and then to create an individual treatment plan that addresses them. Our philosophy focuses on the fact that each child is a unique person with an individual personality, learning style, and cultural background.